Articles /
TrueMoney Center Announcement
Pinalaking Kita sa TrueMoney Padala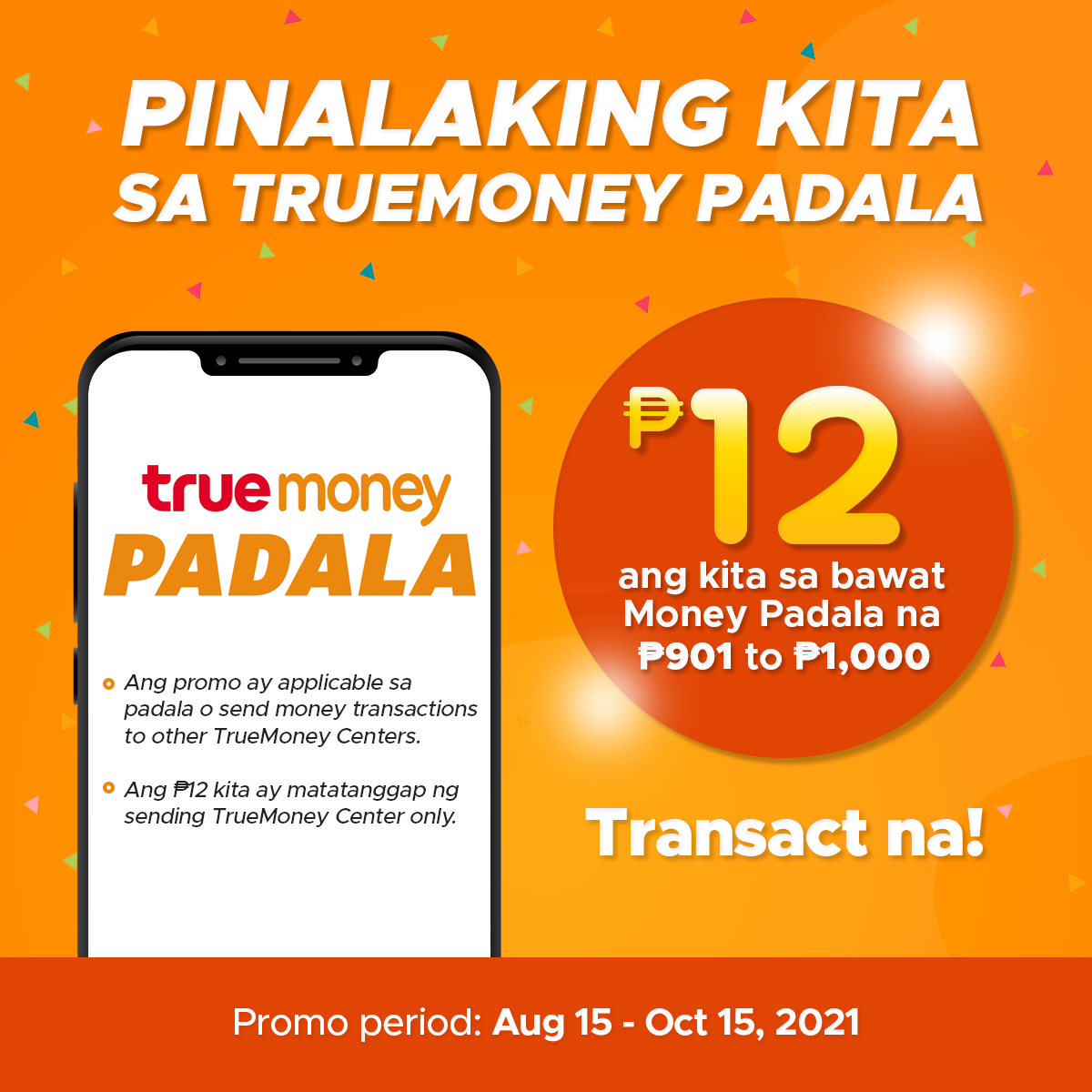 Promo Mechanics:
Ang Pinalaking Kita sa TrueMoney Padala Promo ay open sa lahat ng TrueMoney Centers na may domestic remittance service.
Ang promo duration ay mula August 15 to October 15, 2021.
Ang promo ay applicable sa Php 901.00 to Php 1,000.00 na padala o send money transactions to other TrueMoney Centers only.
Ang TrueMoney Center ay makakuha ng additional Php 3.00 kita on top of the regular Php 9.00 kita sa bawat eligible na money padala transaction. Ang total earnings sa bawat transaction during the promo ay Php 12.00.
Ang Php 12.00 na kita ay matatanggap ng sending TrueMoney Center.
Terms & Conditions:
Only the successfully processed transactions using the TrueMoney NegoApp that are done within the promo period are eligible.
Transactions that were successfully processed but later reversed due to cancellation or erroneous entry are excluded.
TrueMoney reserves the right to disqualify TrueMoney Centers from availing of this offer if found to have committed acts of fraud or have violated this promo mechanics and other existing policies on payment and subscription.
TrueMoney reserves the right to withdraw the earnings from the promo even if the amount has already been credited. TrueMoney reserves the right to debit any cash reward credited from TrueMoney Center's wallet. If the wallet balance is insufficient to cover the amount to be debited at the time of reversal, TrueMoney reserves the right to debit the balance not reversed when the TrueMoney Center's wallet balance is sufficient.
Other TrueMoney Promos:
Display Mo Tindahan Mo Raffle Promo